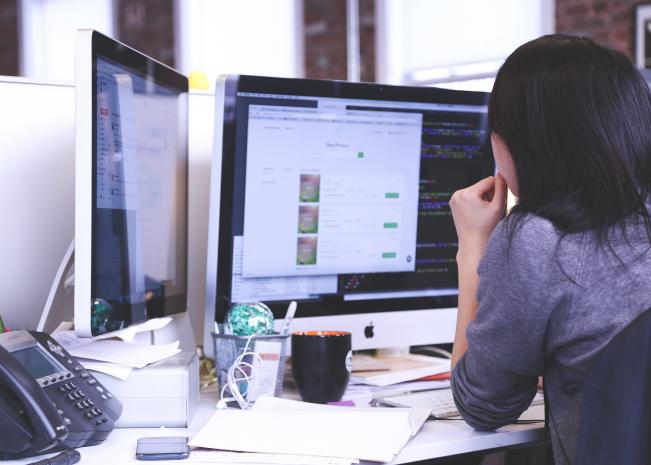 In the 24th issue of the journal Social Change in Switzerland, Marlis Buchmann, Helen Buchs & Ann-Sophie Gnehm from the University of Zurich report on the strong digitisation of the Swiss labour market. In 2019, 44% of job offers in Switzerland required IT qualifications. The digitisation of work is no longer limited by far to IT professions. Regardless of the field of activity, the demand for IT skills increases wages - as long as they are a new component of a profession.
All three authors use data from the Swiss Labour Market Monitor. This database contains tens of thousands of job advertisements that were published between 1990 and 2019 in the press, on company websites or online portals. Using these data, the authors reveal the impact of work automation on different professions. The proportion of jobs advertised for commercial and administrative occupations has thus decreased from 15% in the 1990s to 8% today. Conversely, the number of job offers for IT occupations has increased sharply since the early 2000s.
However, the influence of digitisation is not limited to IT professions. The authors show that in 2019, 44% of the jobs advertised in Switzerland required computer skills, whereas this was still the exception in the early 1990s. There are, however, large differences according to occupational field. Occupations such as accountants or architects are examples of early and massive digitisation, while sales and assembly occupations represent late and slow digitisation.
Employer demand for IT skills is positively reflected in wages and can amount to as much as CHF 100 per month. This is true as long as IT skills are not yet part of the usual skills profile in a profession. However, in an increasing number of professions, IT skills are a prerequisite for employment. As a result, many employees depend on continuing IT training to maintain their prospects on the labour market. The authors point out that further training cannot be left to the sole responsibility of individual employees. Rather, it represents a collective challenge that requires a coordinated response from the state and the social partners.
M. Buchmann, Buchs, H. & A.-S. Gnehm (2020). La demande de compétences informatiques sur le marché du travail suisse 1990-2019. Social Change in Switzerland, N°24, www.socialchangeswitzerland.ch
Contact: Dr. Helen Buchs, Université de Zürich, +41 44 635 23 32,  buchs@soziologie.uzh.ch
The series Social Change in Switzerland continuously documents the evolution of the social structure in Switzerland. It is published jointly by the Swiss Competence Centre for Social Sciences FORS, the Centre for Research on Life Courses and Inequalities (Faculty of Social and Political Sciences, University of Lausanne) LINES and LIVES - The Swiss Competence Centre for Research on Life Courses and Vulnerabilities. The aim is to trace changes in employment, family, income, mobility, voting or gender in Switzerland. Based on state-of-the-art empirical research, it is aimed at a wider audience than just specialists.